In the midst of the coronavirus (COVID-19) pandemic, the BJP's emphasis is on a virtual rally.  In the next two days, Defence Minister Rajnath Singh, Home Minister Amit Shah and Party President JP Nadda will address a virtual rally in four states.  Amit Shah will hold a rally in Odisha on June 8 and West Bengal on June 9, according to news agency ANI.  On Monday, party president JP Nadda will hold a rally in Gujarat and Rajnath Singh in Maharashtra.
Significantly, the BJP will start its election campaign in Bihar with a virtual rally today.  Amit Shah will address the rally.  It is expected that he will meet 1.2 million people during this period.  This rally is named as Bihar Massism Rally.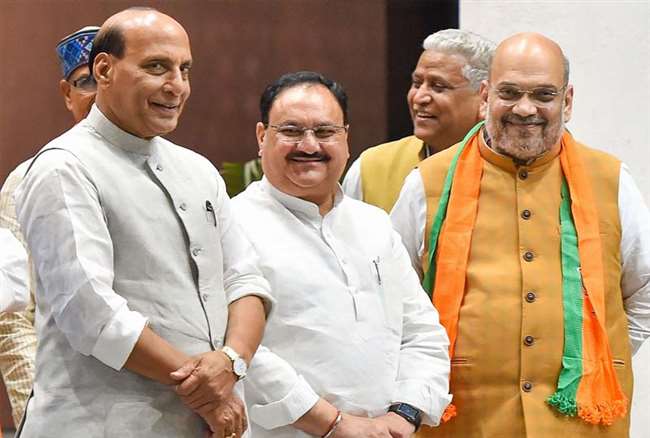 Shah will brief Modi's efforts in the fight against the Corona infection during this period.  Recently, one year of the second term of the Modi government was completed.  During this time, Shah will inform the public about the achievements of the government in this one year. The virtual rally is the beginning of the party's election campaign for the assembly elections.  Similarly, other top leaders of the party will also hold rallies in other states.  Union Road Transport and Highways Minister Nitin Gadkari is scheduled to address a rally in Madhya Pradesh ahead of the by-elections in the state.
Virtual Rally: Rajnath, Shah and Nadda to Address in Four States in two days
Like and Follow us on :