Congress national president Rahul Gandhi may always remain on the target of the opposition, but for the promotion of Kerala, translator Jyoti Vijaykumar, who translates his English language spoken in Malayalam, feels like listening to his speech music. Recently, Rahul Gandhi's translation in Pathanapuream has also been translated into a local language.
Congress national president Rahul Gandhi is a candidate for two seats in this Lok Sabha election. Apart from Amethi, he has also filed his nomination from the Wayanad seat in Kerala. During campaigning in Wayanad seat, Rahul Gandhi is facing the need for translator due to language problem. Generally, the leaders of North India need it for correct and literary translation during campaigning in other Southern states, including Kerala, so that they can communicate properly to the public.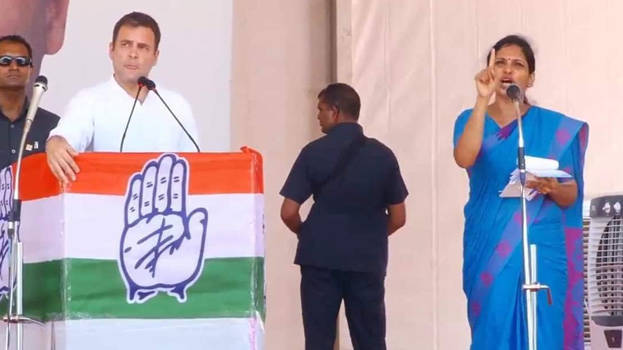 39-year-old Jyoti Vijayakumar is known as Sharp Translator. The manner in which he delivered Rahul's speech to the general public in a meeting, he not only influenced the audience, but his method is also very viral. After this Rahul Gandhi was given an offer for a translator for his meeting in Wayanad today.
Jyoti Vijaya Kumar, a lawyer, is a professor of sociology at Thiruvananthapuram's Civil Service Academy. Jyoti says that 'I am constantly watching Rahul Gandhi's speech. I have noticed many things in it, it includes both political and personal. I like to see and hear what Rahul is saying and what they think of him. I listen to his speeches as music
Let us know that Jyoti has already translated Sonia Gandhi's speeches to the UPA Chairperson. On Wednesday, Rahul Gandhi also praised the work of Jyoti in Thiruvambadi. She is the daughter of Congress leader D Vijayakumar