After the loss of contact with the Lander Vikram of Chandrayaan-2, while the whole nation is encouraging the scientists, Prime Minister Narendra Modi reached the ISRO headquarters and addressed the whole country and scientists from here. At the time Prime Minister Narendra Modi was exiting ISRO headquarters. Then Isro Chief K.K. Sivan got emotional and Hugged PM Modi and started crying. PM Modi was also a bit emotional and hugged the ISRO Chief and encouraged him.
This moment was very emotional. When ISRO Chief was hugging PM Modi and crying. Then he patted K. Sivan and encouraged him. Addressing ISRO Mukhilal, the PM said that we will definitely succeed. There may be an obstacle in the path of our success, but we are not deterred from our destination.
PM Modi said that every struggle, every kind of difficulty, goes by teaching us something new, inspires some new inventions, new technologies and with this our success is determined. Science is the greatest teacher of knowledge. There is no failure in science, but only experiment and effort.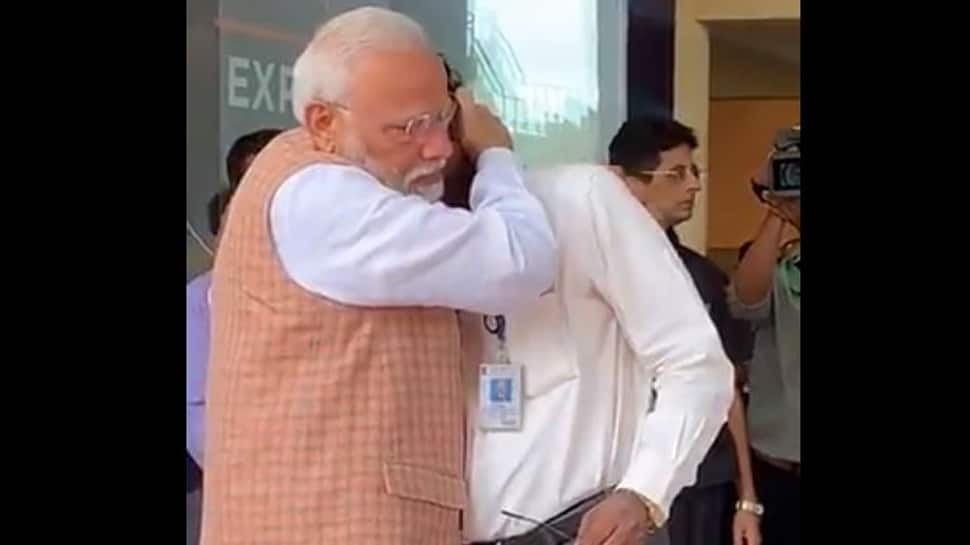 Saluting the family of all scientists, PM Modi said that his silence, but very important support has been with you. He said that we can fail but it should not reduce our enthusiasm. We have to move forward with full force
On Saturday morning, the whole country suffered a major setback for India's Chandrayaan mission when the lander Vikram was about to reach the lunar surface that contact with Vikram was lost just two kilometers ago. Disappointment was evident on the faces of all the scientists at ISRO headquarters at that time. Announcing this, ISRO Chief said that the lander was working as per the planner up to 2.1 km before the lunar surface. However, he lost contact after that. During this time, PM Modi was present with scientists at ISRO headquarters.