Chairman of Indian Space Research Organization (ISRO) Sivan told on Sunday that the countdown to launch Chandrayaan-2 from 6.43 pm today is going to start, which has now been done. During this time the rocket and spacecraft system will be examined and fueled to fuel the rocket engine will be fueled.
Earlier, the GSLV-MK-3 rocket carrying Chandrayaan-2 was scheduled to fly at 2.51 am on July 15, but the flight was postponed one hour before the departure of the rocket due to technical failure. ISRO had said that it will now be launched on July 22 at 2 pm and 43 minutes.
Later, ISRO took away the error of its 44-meter long geosynchronous satellite launch vehicle-Mark-3 (GSLV-MK-3). The 640-ton weight GSLV-MK-3 has been given the nickname of Bahubali in the name of the hero of Bahubali film.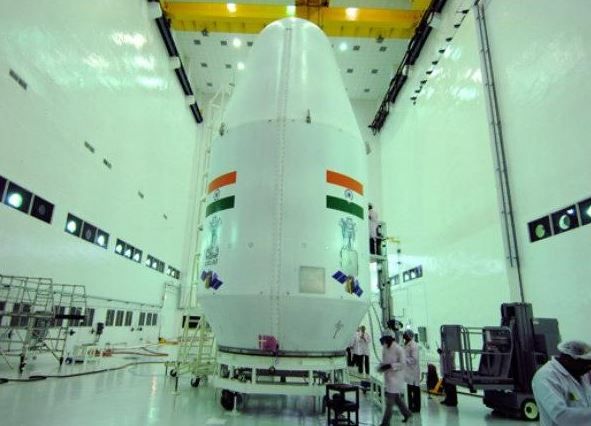 The way the protagonist of the film raises the heavy penis (Shivalinga) in one scene, the rocket will carry 3.8 tonne Chandrayaan-2.
The cost of the GSLV-MK-3 rocket is Rs 375 crores while the cost of Chandrayaan-2 is Rs 603 crores. This rocket will launch Chandrayaan-2 in its 170-fold 40400 km range during its nearly 16-minute flight.
Will reach the moon in 54 days
After the success of the first moon mission, after 11 years, the Indian Space Research Organization (ISRO) will launch the 'Chandrayaan-2' built at a cost of 978 crores from GSLV-MK III geosynchronous launch vehicle. It will take 54 days to reach the moon.
Total 13 payloads in Chandrayaan 2
Chandrayaan-2, built by indigenous technology, has a total of 13 payloads. In eight orbits, three payload lander Vikram and two payload rowers are in Pragyan. Five payloads belong to India, three Europe, two America and one from Bulgaria. Lander Vikram is named after the father of Indian Space Research Program, Vikram A Sarabhai. On the other hand, 27 Kgs of Pragyan means intelligence in Sanskrit.
President will see the launch in Sriharikota
President Ramnath Kovind will see the launch of Chandrayaan in Sriharikota. They reached Sriharikota just a day ago. About 16 minutes after launch, GSLV-MK III will set Chandrayaan-II in Earth orbit.
Will study the moon in depth
The main objectives of the mission are to estimate the quantity of water on the Moon, its soil, its minerals, and chemicals present in it, and their distribution, the study of seismic activity, and the analysis of thermal physics properties of the outer environment of the Moon. Various types of cameras, spectrometer, radars, probes, and seismometers are being sent in the mission. Chandrayaan-1, India's first mission on the moon, confirmed the presence of water there.