The three armies are honoring the Corona warriors across the country. Flowers are being showered with helicopters above hospitals. Sukhoi fighter jets flew over Mumbai and Delhi to honor the Corona Warriors, while the Chinook helicopter in Leh showered flowers. In Delhi, Super Heros also saluted the Corona Warriors. Today, the three armies are thanking the Corona warriors for their services.
In honor of Corona Warriors, the fly past of Air Force fighters started from morning. Fighter jets flew over Dal Lake in Srinagar and Sukna Lake in Chandigarh. The Army Band played the tune at the Assembly and War Memorial in Bangalore. A grand program was organized at the Police Memorial in honor of the police personnel handling the country during the Corona period. The chiefs of the three armies paid tribute to the martyrs. Apart from this, flowers were showered by helicopter.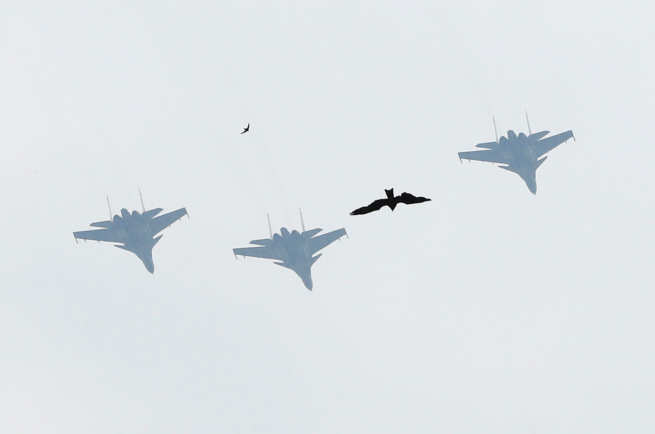 In Chandigarh, Indian Air Force aircraft C-130 flew past Sukhna Lake. In Goa, the Indian Navy flew past Goa Medical College to show gratitude to the 'Corona warriors' and showered flowers on health workers. The Indian Air Force flew over Rajpath in Delhi to express its gratitude for the commendable work of medical professionals and frontline workers against the corona epidemic.
Air Force aircraft were seen making a victory sign above Marine Drive in Mumbai. Apart from this, the army paid respects to the doctors and people involved in essential services in Jammu by playing the band. In Bengaluru, the Indian Air Force placed flowers on health workers at Victoria Hospital to express their gratitude to the 'Corona Fighters' who were serving their people during this difficult time. In Lucknow too, the Air Force flew past King George Medical College (KGMU) and showered flowers to show their gratitude to the 'Corona warriors'.